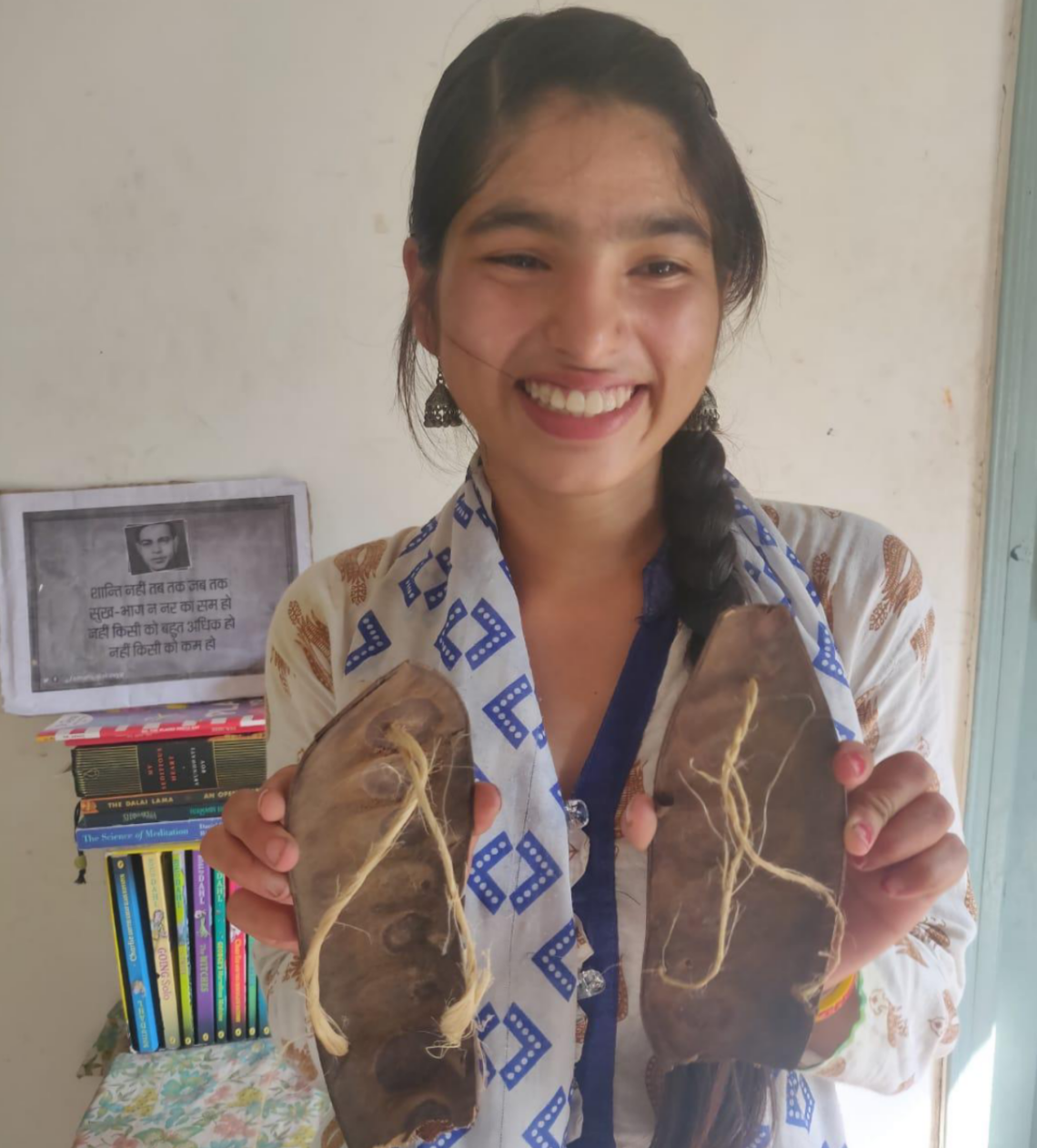 The Lost Traditions of Dressing Up in Garhwal
A young and curious student from Balyakhana village steps into the shoes of her grandmother (quite literally) as she discovers the nature-oriented ways of dressing up in her village two generations ago.
Story by: Saniya Meher
Read the original story in Hindi
It was 6 in the morning, the sun's first rays entered my bed through the window. I saw my mother as soon as I opened my eyes. She was looking into the mirror and getting dressed up. A smile on her face, kajal in her eyes, rings in her nose and ears, sindoor on her hair parting line, red bindi on her forehead, bangles on her hands, anklets around her feet, thick hair and donning green coloured sari. I was happy to see this and one question popped across my mind – how did people dress up in the olden days?
This question kept burning in my mind. I freshened up, had breakfast and went to sit with my mother. When I asked my mother this question, she was too busy to answer and also had to leave for the market. She hurriedly said, "My dear, I don't know too much about it, but I can tell you a little bit. Women in older times didn't dress up too much as they didn't have much time and right now even I don't have the time. Let's talk about this in the evening."
I was a bit disappointed and my brother started laughing while listening to this conversation. My paternal grandmother (Dadi) heard all this and called me towards her saying, "What were you asking your mother? You can ask me."
When I asked Dadi about this, her face lit up with a smile and she said, "Earlier we didn't have so many things to adorn ourselves, but we used household things."
"Dadi, what were these things?" I asked curiously.
"My dear, a woman's beauty is recognised through her hair. Instead of shampoo, we used a paste of sesame (til) leaves, and oil, laddoos were also made with sesame. We used to apply something else, similar to kajal, in our eyes." I started wondering what this kajal-like thing must be .
Dadi didn't mention its name, instead started telling the method of making it, "We would take a lit diya (lamp) and place a plate over it. After a few minutes, a black coloured impression was seen at that spot and we would apply that in our eyes. And do you know? Applying this in small children's eyes tends to make their eyes bigger."
As soon as I heard this, I placed a diya and plate in front of Dadi and did exactly the same. I applied that kajal in my eyes. I was so happy seeing my eyes look more beautiful. Dadi started walking to the kitchen to prepare a meal for the day and I started following her around.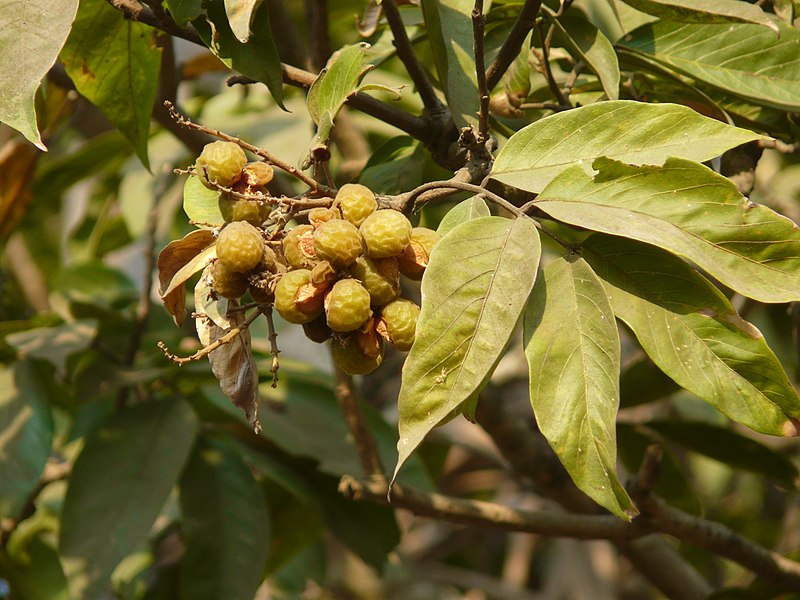 "In today's world, cleanliness and hygiene is very important. During those days, instead of a soap, we gathered the buds of the Bhimal tree (Grewia optiva), made a paste out of it and rubbed it against our skin. It would keep our skin soft. Instead of Surf (washing detergent) we used retha (Sapindus mukorossi or Indian soapberry) for washing clothes". As soon as I heard retha, I remembered that we used to play with retha nuts. It used to feel warm when rubbed against our hands.
Dal was still getting cooked and with just two whistles blowing off the cooker, neighboring Asha's paternal grandmother paid a visit, "Arre, what were you doing since morning?"
"Nothing much, was chatting with my granddaughter", replied my grandmother.
"What was the grandmother-granddaughter duo chatting about?" she inquired laughing.
"She was asking me how women used to dress up in the olden days", replied Dadi.
"Then you must have told her about our slippers, the kind of chappals (slippers) we both used to wear," she laughingly responded.
"Oh, I forgot about those!", expressed Dadi.
"No worries, I'll tell her about that. Am I not her grandmother too? My dear, come here", she called me out. "Your Dadi forgot to tell you about how the chappals were made in those days. Let me tell you. When we would go to the forest, we would pluck the taati, which is the fruit of the Malu (Bauhinia vahli) tree. We would make a hole in the skin of that fruit and remove the rope from the Bhimal tree and sew it through the taati fruit and wear it. Did you understand?", she explained.
In the evening, we drank tea there and continued our chat. They both shared many stories about the forest to which I paid complete attention and out of excitement I collected the fruit of Malu tree and kyade. As they continued their talk, I made a pair of slippers for myself. When we were walking back home, Dadi asked, "How do you feel now?" I replied that since morning it felt like there was a stock of questions hovering over my head and now that I have found some answers, the load has been lightened. We reached home and mother had arrived too. On seeing mother I felt like a thirsty person who has found a sea of sweet water. Mummy had brought a lot of things from the market including accessories and things for dressing up, and I was happy to see them. But my mind again drifted, thinking about the natural things that were used during Dadi-Nani's times. Later, mother got busy cooking dinner and Dadi and I started having fun. I started talking to Dadi as if she was my friend.
We had our dinner together, washed our hands, got into our beds and before I could fall asleep, Dadi started sharing more stories and reminisced about her past. I enjoyed listening to this and spent the night thinking, "Why can't I start adorning myself like they used to back then?"
Next morning, my mother and Dadi were discussing that earlier times were much better and nowadays all the prices have shot up. But Dadi also added that although things are more expensive now, they don't require as much effort as before because they are easily available and worn. This instilled a thought in my mind that I should give the older ways of dressing up a genuine try but then there was a dual argument which reminded me of the amount of time I was saving by using modern accessories as they are readily available.
After breakfast, I went to school and shared with my friends everything I had recently discovered about how people from older generations used natural things to dress up.
Read the original story in Hindi