We are glad to have a network of dedicated, passionate, creative volunteers to help us during the storytelling process.
Lakshmi Jagad
Lakshmi Jagad is a writer, editor and blogger based in Atlanta, USA. She has a Master's degree in Mass Communication from Georgia State University. An ideal day for Lakshmi includes a hike, meditation, writing, and a steaming cup of masala chai. She is a vegan food enthusiast, lover of slow travel, and counts dates+almond butter as dessert. She blogs at The Rich Vegetarian.
Lakshmi is a master translator at Voices of Rural India.
Farha Mukri
Farha is a software engineer and freelance writer from Mumbai, currently based in Chicago. Her travel writing has appeared in The Hindu, The Philadelphia Inquirer, and blogs like Saevus and Misadventures Magazine. She loves a life of long nature walks, good stories, slow travel, meditation and gazing out the window. Read more about her on farhamukri.com or connect with her on Instagram @fm2709.
Farha is a translation wizard at Voices of Rural India.
Shilpa Raina
Occasional traveller and dog mother, Shilpa Raina has a great interest in understanding the continuity of cultural heritage among refugees. Her words have appeared in The Indian Express, The Hindu and TAKE on Art magazine.
Shilpa supports editing at Voices of Rural India.
Soity Banerjee
Soity Banerjee has been a travel and food journalist for over 17 years, engaging with questions of identity, evolution and sustainability. Over the last 6 years, as Project Editor at Outlook Responsible Tourism Initiative, an affiliate member of the UNWTO, she has also been trying to contribute to an alternative imagination of travel in India and South Asia.
Soity supports editing at Voices of Rural India.
Neha Dara
Neha Dara is the business head at RoundGlass Sustain, a treasure trove of stories on India's natural world. She has been a travel writer and editor for most of her career and has a keen interest in sustainability and responsible tourism.
Neha supports editing at Voices of Rural India.
Pallavi Garg
Pallavi believes in the power of 'story' as a powerful agent of transformation at a personal, organizational and societal level. Harnessing the potential of purpose-driven teams coupled with the promise of the endless possibilities offered by digital technologies inspire and energize her tremendously.
She leads Product Management at PATH, a global nonprofit whose mission is to advance equity through innovation and partnerships. She also volunteers with several local arts-based organizations in the greater Seattle area and collaborates with multiple international nonprofits through the NetHope network.
Pallavi supports translation at Voices of Rural India.
Shailey Sharma
Shailey Sharma is a volunteer instructor and community facilitator at the Art of Living Foundation. In her professional life, she is an accomplished realtor with Owned Real Estate in Maryland.
Shailey supports translation at Voices of Rural India.
Richa Somvanshi
After working for 2 years in the corporate world as an HR professional, Richa decided to move on to work with the development sector. She has been working with different NGOs in their program implementation. She loves dogs and considers them her best companions. She also loves reading and drawing.
Richa support translation at Voices of Rural India.
Ellie Cleary
Ellie Cleary is the founder of Soul Travel Blog and co-founder of Soul Travel India. Originally from London, UK, she has worked in tourism since 2007 and is passionate about supporting immersive tourism that can create positive change. When not travelling or writing about travel, Ellie enjoys long walks and getting lost in nature. Ellie is based in the UK and visits India at every chance she gets.
Ellie supports SEO at Voices of Rural India.
Charu Babbar
Charu earns her livelihood by helping organizations simplify their marketing. A person of varied interests, she spends her time learning new languages, reading fiction, non-fiction and Urdu poetry, and exploring new places. Connect with her on charubabbar.com
Charu supports SEO at Voices of Rural India.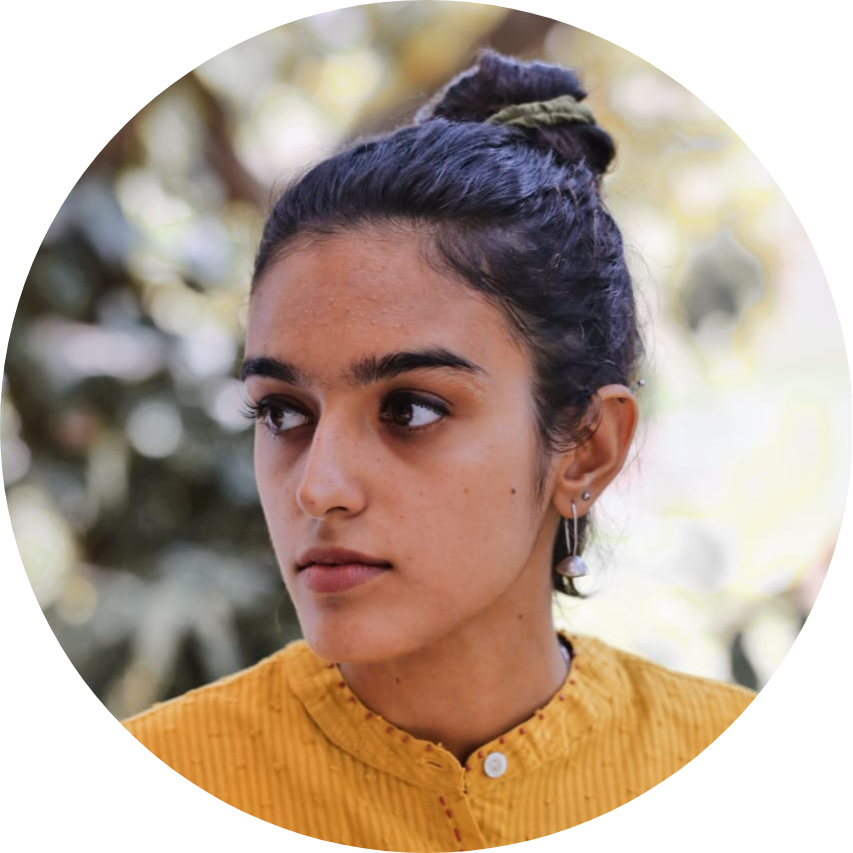 Sharada Kerkar
Sharada Kerkar is a development sector practitioner, illustrator and storyteller. She has worked in the area of digital education, entrepreneurship and art livelihoods. She loves to travel, get drenched in the rain, read children's storybooks and survive on raw mango and tamarind! Connect with her on Instagram @sharadakerkar
Sharada oversees visual work at Voices of Rural India.
Aakarsh Gupta
Aakarsh is a journalist by profession and an ever-learning content producer cum filmmaker, based in New Delhi. He explores the world, documenting travel, culture and life. He spent his formative days in Agra and soon discovered his passion for travel and filmmaking. He tells stories through his pictures, he lives experiences through his journey. Connect with him on Instagram at @travelwithaakarsh
Aakarsh volunteered at Voices of Rural India to help develop training material for our storytellers.
Aarti Tiwari
Aarti is a theatre practitioner, pursuing theatre in English, Hindi & Marathi languages. She holds a distinction in 'Speaking Verse and Prose' and 'Acting' from the London Academy of Music and Dramatic Art (LAMDA) and is currently pursuing a professional course in writing at the University of Washington. She is the co-founding member of 'BYQA.INK', a Pune based art and culture initiative dedicated to bringing women's voices alive on page, stage, and screen. Aarti has collaborated on several theatre projects in India and the USA. She has been traveling countrywide with her solo performance 'Mansha ki Shaadi'.
Aarti volunteered as an editor at Voices of Rural India.
Pallawi Rautela
Pallawi grew up in Sarmoli, in the Munsiari region of Uttarakhand. She is a student of journalism and telecommunications. Connect with her on Instagram @pallawi_rautela
Pallawi volunteered at Voices of Rural India to help develop training material for our storytellers.
Kajal Patra
Kajal is a graphics and fashion designer, doodlist, content creator and storyteller. She believes in working hard and loves her solitude. Connect with her on Instagram @kajal.kj
Kajal volunteered at Voices of Rural India to help create training material for our storytellers.